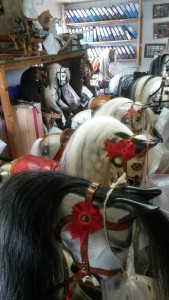 Earlier this week I had the pleasure of visiting the workshop of Stevenson Brothers, the makers of, what are widely regarded as, the best rocking horses in the world. I also had an opportunity to meet the charismatic owner and founder of this creative business, Marc Stevenson himself.
My invitation to the factory was arranged by Family Business Place, an organisation committed to helping British family businesses. I must firstly thank them for this rare opportunity.
Stevenson Brothers, as the name suggests, was started by two siblings with an ambition to create the world's finest rocking horses. 30 years later it is clear that Marc and Tony Stevenson's vision is now a reality. Their client list reads more or less like a copy of Who's Who, and even Her Majesty herself can boast of owning no less than five Stevenson horses.
You would be wrong in assuming these luxury items are just for kids. The vast majority of their sales are for a more grown-up audience. Marc himself describes them as being more akin to pieces of sculpture than toys, and it is easy to see why. The attention to detail is outstanding, especially if you have the financial means to commission a rocking version of your own real horse. In these instances the colouring is meticulously matched and every equine marking is beautifully captured in wood and paint.
Everything about these horses is hand crafted –  from the carving to the painting and even all of the leatherwork. In fact the attention to detail is so great that the saddles are basically real saddles, but in miniature.
However, these wonderful horses are made to be ridden. In fact Marc claims to ride a rocking horse everyday – at which point he duly demonstrated this fact by jumping on one and slowly rocking back and forth. Once the surreal image of a middle aged man astride a rocking horse has been given time to become reality in your mind, it appears to be a lot of fun… and I can confirm it is! I have to admit to having a little go myself. Mark made some excuse that riding a rocking horse each day was somehow beneficial to his back problems. I am tempted to believe that this is a bit of an excuse. I think if I owned one I might be tempted to have a canter each morning too.
Stevenson Brothers remain in their original workshop in Bethersden in Kent where it was founded some 30 years earlier with a £1000 loan and a lot of bravado. It was a real privilege to get to see behind the scenes of this fantastically fun British manufacturer but they also have a showroom/museum displaying some of their finest creations. So, if you ever find yourself in the wildes of Kent and fancy a ride, drop into Stevenson Brothers and gallop away on a wooden horse.
– James
If you can get over the annoying voice-over here is an American episode of 'How it's made' athe the workshop: