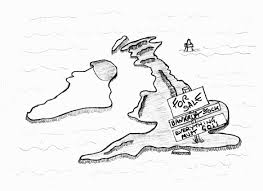 Nearly two thirds of UK manufacturing businesses that employ over 500 are now owned by foreign companies claims business minister Baroness Neville-Rolfe.
She went on to say that 320 manufacturing enterprises in the UK, with more than 500 employees, were now in a situation of having over 50% of their shares in foreign hands.
It is clear that foreign investors see the potential of British manufacturing, who are hoovering (or should I say Dyson-ing) up some of our most treasured brands. What is perhaps even sadder than the headline of this article is that in many cases these 'Jonny-foreigners' seem to actually do a better job that us at running them. Take for instance Jaguar Land Rover. Once failing under British ownership, JLR have seen production triple since under the ownership of the Indian's.
Do these stats perhaps highlight another issues – that we might have lost the ability to run a business properly? Have we Brits lost our once envied entrepreneurial spirit? Whatever the reason it certainly must indicate that the system is broken somewhere!
What do you make of this news? Please comment below.