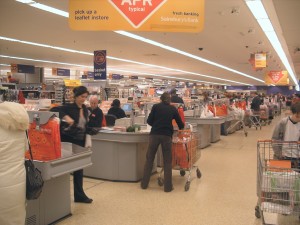 What has become quickly apparent while only buying British is that the level of customer service we have received from the companies across the nation is fantastic. Almost without exception, the pleasure of dealing with the people we have come across out weighs the value if the items we are actually buying. Once you leave the sterile environment of the supermarket or the high street you find a wealth of people that really understand what they are selling. 

The pleasure of picking up the phone or receiving an email from somebody that actually cares about their products and, most of all, cares that you love the thing you are willing to purchase is a beautiful thing.
I remember my grandmother talking about the gradual decline of good service from the 1940-50's but never really understood what this meant. I would like to share with you a recent and particularly memorable example:
One of the first things that I bought when we embarked on our mission to buy only British goods was a pair of Marko John's socks. I had some communication with the man himself before receiving my package but it was the content of that package which left a lasting memory.
Tucked just inside the neatly folded fuchsia tissue paper and  resting on my brand new lavender coloured socks was a letter. This letter, printed on slightly buff Conquer paper, was a personal message of thanks for my first order. This was not some generic corporate platitude produced by a overactive marketing department – this was a genuine message of appreciation that I had chosen to invest my hard-earned money in something they had made. Opening this package was no longer about buying a pair of socks, it was almost like discovering a time capsule to a level of customer service long forgotten. It suddenly made me understand what my Grandma was talking about.
It must be said that this is not an isolated incident. Once we began ordering more from smaller manufacturers and retailers the more we began to experience the passions of the individuals directly involved in the product they are selling.
Such interactions now make buying the mundane into something really pleasurable.
– James