I had a strange sensation last night (careful now!). I was watching TV and an advert for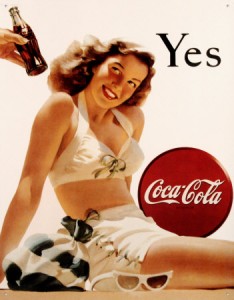 Coke came on.  I instantly got severe cravings for a chilled, dew soaked, mountain fresh, glistening in the summer sun… ehem!, excuse me… can of Coca-Cola.
This is odd as I drink, at most, 3 cans of Coke per year. I think that it was the idea of not being able to have one (under our self imposed rules) that really made me want one. If I was a conspiracy theorist I would, at this point, begin thinking about the possibly of mind control being used in their advertising. However, being slightly more rational I realised that I was being tempted by the forbidden fruit.
It is obvious to me now that finding British goods is not the only issue we face. We also have to combat our own wills against the dominating power of consumerism itself (especially American). In this battle my will won-out but whether I will be a casualty in the in the war, as the months roll on, it is anyone's guess.
– James