My lovely wife has given me my Christmas present early this year – a 1952 Singer 99K sewing machine. The reason for this is that my leather goods are selling pretty well online and I really need to speed up production if I want to keep up with demand. It was thought that a sewing machine might take some of the laborious hand-stitching out of some of the bigger items… once I have learnt how to use it that is.
The machine arrived yesterday and the old cliché "They don't make-em like that anymore" immediately came to mind.   With its japanned black cast-nickel body and ornate gold fleur-de-lis patterning it is a fantastically tactile machine which looks as good, and works as well, as the day it came of the production line.  Singer was originally an American company and is now under Swedish ownership, however, my little machine is proudly stamped 'Made in Great Britain'. It was actually made in Kilbowie in Scotland.
A bit of history: Singer Company opened their first UK factory in Glasgow in 1867 but by the 1870's demand outstripped supply and plans were drawn up the erect a new super-factory. In 1882 Singer began construction of their 46 acre factory site in Kilbowie, at the time the largest Singer factory in the world.
During the Second World War Singer continued to produce sewing machines but in smaller numbers to in order to supply munitions. The machines they did make, however, were also deemed important for the war effort for making army uniforms and for members of the public to 'make do and mend'.
At the height of its production in the mid 1960's, Singer employed over 16,000 workers. However demand declined rapidly after that and in just 10 years this dropped the just 5,000, following a decade of compulsory redundancies.  Financial problems and lack of orders quickly forced the world's largest sewing machine factory to close in June 1980, bringing to an end over 100 years of sewing machine production in Scotland. The factory, including its iconic clock tower, was finally demolished in 1998.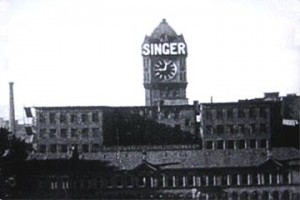 It is a sad end to a fine manufacturing heritage for this area of Scotland. However, it is testament to the quality of manufacture that took place in this factory that so many of these machines, including my own, are still in use today.
Prepare for a shameless plug of my online store here: www.rawleather.co.uk
Orders placed before 13th December will be guaranteed to arrive before Christmas… and may be stitched with a British made Singer sewing machine.  (Sorry, that really was a shameless)
– James