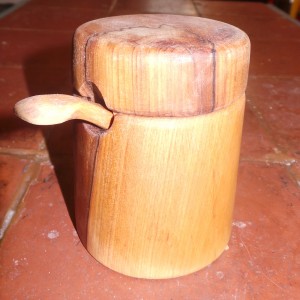 Those that follow our blog (or read the Mail on Sunday) will know of our plan to spend nothing over the Christmas period. This includes all of the gifts destined for our friends and family. We are making Christmas for ourselves this year, which means that all of the presents coming from us will be hand-made.
Christmas shopping seems to start earlier and earlier each year (much to the annoyance of many). While we have now given ourselves the freedom to avoid this overt commercialism, due to the time it takes to make so many gifts we have had to start our preparations rather earlier than usual.
Work has begun simultaneously on a number of gift ideas but the first to reach completion is for my Mother-In-Law [insert Les Dawson gag here].  After much consultation with Emily as to what she might like I came up with the idea of carving a salt-pig with spoon… however due to a lack of seasoned wood this finally became a salt bowl with lid and spoon. The wood was actually given to use last year by the in-laws and comes from one of their much prized apple trees. I hope that this fact makes the gift even more special to her.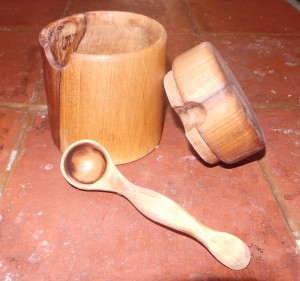 I am not a greatly experienced carver. I have whittled a spoon before but that was more or less the extent of my wood carving experience. So this was a somewhat ambitious project that took 2 full days, 3 blisters, 1 black eye and a rather large bruise on my chest to make. The term blood, sweat and tears has never been so true. However, I am really pleased with the result. They key is using seasoned wood and ensuring that you plan the project reasonably well before carving. All in all it was not too difficult.
Get the look….
If you cannot bear the idea of trying to make one of these yourself you can commission a local crafts person to make something to your specification. Such as Hugh Lieshman from Yorkshire who I found on the great website UK Handmade: http://ukhandmade.co.uk/content/meet-hugh-leishman
Or check out Folksy. A great website of only British crafts.
While I could not find anything online which closely resembled my creation, a turned wooden bowl is likely to set you back about £25.00 while a matching spoon would cost around £10-15.
All in all I would say that had I bought the gift I made from a shop it would likely have cost me around £40-£50. It actually cost me nothing but time. Not bad, not bad at all!
– James