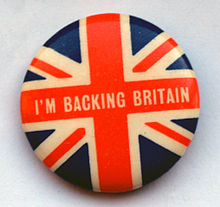 Almost as soon as we started our project to live on only British goods and services we were inundated by people suggesting that what we were starting was something similar to the ' I'm Backing Britain' campaign of the late 1960's. The more people that have continued to say this to us the more we felt that it was possible. Indeed it would seem the timing is right; we are in economic dire straits as a country, people are genuinely concerned by the decline of our manufacturing heritage and we are, as a country, motivated by a re-energised sense of Britishness following the Olympics and Royal Jubilee last year.
However, we have recently hit a rather substantial bump in our efforts to get the country celebrating the things we are still able to produce.
We are sorry if the next bit is rather cryptic but we hope that you understand why. We recently wrote a letter to a very high profile minister tasked with helping to get British business back on track. This letter was delivered directly into his hands by a reliable intermediary. The feedback we were given was that an EU directive forces the UK government to not support one EU counties produce over another. This same directive forces retailers away from overly favouring one EU country over another in point of sale advertising or promotions. Basically, he was not willing to help us!
This means that such a celebratory campaign as some people remember from the swinging 60's would be difficult, if not impossible to do again.
However, this will not stop us trying. If there is one trait that the British have in spades it is our ability to face adversity against the odds.
Is there anyone within our fantastic followers with an expert legal background that would be willing to advise us (Pro-Bono I am afraid) on the background of this situation and how we may overcome such adversity?
I must add an important caveat to this post; we are not politicians and do not want to take any particular stance on the UK's involvement with Europe or other political matters. We will not be drawn into comment on our own beliefs in this regard, as we feel that it detracts from the intended celebratory and inclusive nature of what we are trying to achieve.