Last week the rather grand headquarters of the Institution of Civil Engineers at one Great George Street in London played host to The Great British Family Business Event 2015. I was invited by the organiser and founder of Family Businesses United, Paul Andrew. Paul is extremely passionate about British business and an all-round nice chap. However, beyond the palatial surrounding and generosity of my host I was there to hear 3 icons of British manufacturing speaking as part of the days schedule.
The event is all about businesses run by families in the UK. Indeed, there is a great tradition of British businesses being founded, run and managed by families. Companies like JCB, J Sainsbury and Associated British Foods are all multi-billion pound businesses run by families. In general the quality of the speakers was high but, for obvious reasons, I was there to hear what the manufacturers had to say. Adrian Maxwell – Managing Director of Fracino, Christopher Nieper – Managing Director of David Nieper and Robin Skailes – Director of Cropwell Bishop Creamery were on the bill to discuss what running a British manufacturing business, with their families, means to them.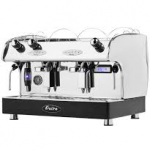 Fracino are one the the largest manufacturers of commercial coffee machines in the world but I was interested to hear of their humble beginnings. Started by Adrian's father, Frank, in the early 1960's the company name is a rather sweet amalgam of his fathers name and cappuccino. Frank bought an old coffee machine while on holiday in Italy and stripped it down in his shed. A year later he launched the businesses from that same shed. Some 50 years later they now have a 50,000 sq ft factory in Birmingham and ironically export back to Italy.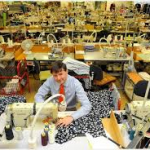 David Nieper have been manufacturing luxury women's clothing and nightwear in Derbyshire for more than 50 years and are one of the biggest names in the UK garment industry. Christopher himself seems like quite a character – he explained that they try to do as much in-house as possible… they even print all of their catalogues themselves.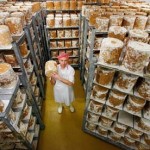 Cropwell Bishop are a Nottinghamshire based cheese manufacturer famous for  producing a punchy, creamy and thoroughly delicious stilton. The Cropwell Bishop stilton, thanks to the efforts of Robin and his family, has gained Protected Geographical Indication (PGI) status and so can only be produced in specific areas of the Midlands.
The question of what made in Britain means to them was posed to all 3 speakers and the response was unanimous. Each, in turn, stressed the importance and pride they place on making their products in the UK. Every Facino coffee machine bears a Union Flag, the Nieper family believe that it is a unique selling point for their products internationally and the guys at Cropwell Bishop believe their cheeses cannot be replicated anywhere else in the world.
All in all it was a terrific event.
– James