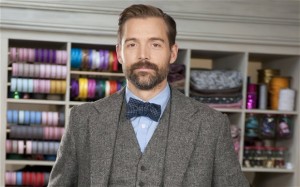 Celebrity tailor Patrick Grant, of The Great British Sewing Bee, has launched a not-for-profit clothing initiative to support British manufacturers that is offering some real must-have bargains. Grant has recently set up Kickstarter fund inviting the public to pledge their support by placing advance orders for some British made essentials, including jeans at just £49.
The Community Clothing collection features three key items for men and women: a five-pocket jean priced at £49, a classic Harrington jacket priced at £79 and a single-breasted raincoat priced at £119.
The clothing will be made in Blackburn at the Cookson and Clegg factory (which Grant saved from closure last year. However, the garments will also source their suppliers for things like buttons and labels from other UK factories.
Engineered for simplicity and selling direct to the consumer, Grant hopes to keep the prices low, especially when compared to most other labels sporting the 'Made in Britain' logo. He hopes to raise £75,000 through order via Kickstarter and manufacturing will begin in March with delivery expected in July.
I have just pledge to buy a pair of jeans and a raincoat. Once I recieve these in the Summer expect an extensive review from us.
Click here to grab yourself some british made bargins… we have!