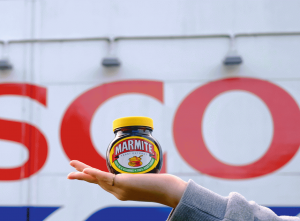 Marmite, the salty yeast based breakfast staple, is at the centre of an on-going row between two consumer giants. Unilever are saying that Brexit is responsible for the massive price hike of it's products and Tesco are saying that they should not foot the bill. Tesco has since gone on to embargo affected Unilever products meaning that stocks of the Marmite are no longer appearing on shelves. However, Marmite is actually made in the UK. So why is it's price being effected by the falling pound?
Marmite has been exclusively produced in one factory in Burton-upon-Trent, Staffordshire since 1902. While the exact recipe is a trade secret, its main ingredients include yeast extract, vegetables and spices and was originally produced in the town because of it's rich brewing heritage. There were once 30 breweries in the surrounding area which supplied the waste yeast as a by-product of beer making to the Marmite factory but now the raw materials come from across the country.
The pound has fallen 17% since Britain voted to leave the EU. Some suggest that these are fantastic conditions for UK manufacturing to grow and thrive and, in any case, why should a UK produced product consisting of all UK produced ingredients suffer from such currency fluctuations. Well, the answer is simple – while the product itself is made in the UK the bottles aren't. Like many similar products, the bottles are likely to constitute the majority of the value of the finished. Basically, the cost of the container is more expensive to produce than the content. After all, the main ingredient is slurried yeast!
Unilever are asking for 10% price increase in a number of their products and some are suggesting that the increased costs, in real terms, are unlikely to be that high. So are Unilever trying to take advantage of the current political situation? The answer has to be 'quite possibly'. If successful are other food producers going to try something similar – almost certainly.
With the falling pound it is clear that imported goods will likely suffer a price hike but the majority of UK produced items should remain static. As consumers, in the short-term, we will certainly need to begin scrutinising the location of manufacture of goods far more rigorously in order to get the best deals. This is unless unscrupulous producers begin trying to pull a fast one.