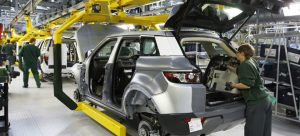 The plunging pound is failing to boost demand for UK exports British factories suffered a worse-than-expected drop in activity after the Brexit vote.
Eagerly anticipated data released today by the Office of national Statistics (ONS) showed a sharp contraction in the manufacturing sector in July of 0.9%. This news comes despite hopes that the Brexit-hit pound might make British made good an attractive proposition for overseas buyers.
However, the figures appear to show a small 0.1% rise in overall industrial production for the same period which seems to somewhat contradict the doom and gloom.
Whatever you politics many sources are using this news as an 'I told you so' to underline their stance on the recent Brexit vote. However, if recent history has taught us anything it is that we should be careful not to talk ourselves into recession.
At worst todays news is a mixed message. I believe, that given the right governmental support the UK manufacturing sector could emerge from Brexit stronger than at any other point in it's recent history, but it will be a long game. It is far too early for 'I told you so' and certainly far to early to worry about recession.