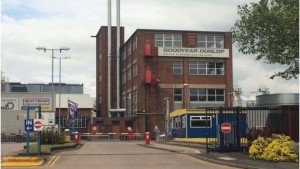 US owned tyre manufacturer Goodyear is planning to close its only UK factory costing the jobs of all 330 staff at the companies Wolverhampton plant.
While the plant itself is seemingly both productive and profitable Goodyear are intent on boosting profit further by reducing the costs associated with their European production. Union leaders are suggesting Goodyear have decided to close the British plant, instead of any other EU site, because UK workers "are cheaper and easier to fire than their European counterparts". We cannot comment on how truthful this might be but, as if to rub salt into the wound, the workers only found out that they were soon to be unemployed when they were told by the local press.
So, it looks like Goodyear are set to leave these shores and will, in all likelihood, never return.
In spite of this setback, and the imminent bulldozing of the former Dunlop motorsport tyre factory we reported last week, you will be glad to know that there remains a number of tyre manufacturers still committed to the UK, namely Michelin, Cooper and Avon.