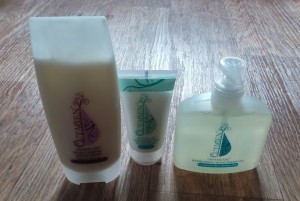 A little while ago we were extremely fortunate to receive some Cutagen products through the post. I must admit I am not one for waste and so it has taken a while to crack them open as we still had other products to use up. This morning however, was the day I had waited for as everything else was gone and I was ready to see what Cutagen had to offer. The three products I reviewed were the Gentlecare Refreshing hand wash gel, the Gentlecare Moisturising crème wash and the Gentlecare 24H Hydrating moisturiser.
My first impressions were very good, the packaging is substantial without being too much. The first product called into action was the hand wash. I was really surprised when I took one full pump of the gel and found that it was substantially too much for one wash. This is great news as it means the bottle will last a long time, a little really does go a very long way with this product.  The fragrance was gentle and very much as it's name suggests, refreshing.
Next up was the crème wash, as into the shower I headed. Having learnt my lesson with the hand wash I squeezed much less than I usually would from the bottle and just like the hand wash this 5p size blob was enough to wash all over with. This product is soap and fragrance free and while this is not something I would ordinarily choose, I have found that my skin has remained really soft and well moisturised all day, a first for me so certainly something to look out for in the future.
Once out and dry the last product to try out was the 24H moisturiser. Again, a little went a long way and it had a really simple but silky texture, nothing gunky or gloopy here. It was fragrance free and felt really natural on my skin and 12 hours later my skin feels just moisturised so I have no doubt that it has really done my skin some good.
I think that for people who are normally irritated by more everyday products these would be really useful and while they are not cheap, they feel luxurious while also being good for you, not an easy balance to find.
To find your own Cutagen products visit their website at www.cutagen.com. Cutagen will also be at our British Family Fayre event this year to fee free to come along and check them out for yourself!
– Emily
Editor's Rating
Quality
Value for Money
Functionality
Design
Satisfaction
Total British Family Rating