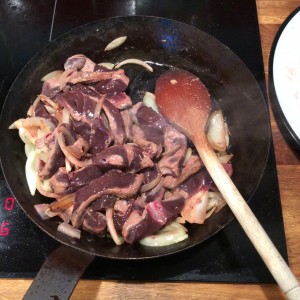 I would say that Emily and I are pretty adventurous eaters. So, it is difficult to find something that neither of us has ever tried. However, it was on a recent visit to our favourite butchers (Chart Farm in Seal, Kent) that we both discovered that we had never partaken of venison liver. Tonight we thought we would give it a whirl and it is fair to say that we found the experience surprising.
My plan was to cook it as simply, but as carefully, as possible so as to get a true idea of the flavour.
Ingredients (feeds 4):
400g of venison liver
1 large oinion
Pancetta (or streaky bacon)
5 large mushrooms
2 Cloves of garlic
Fresh  rosemary
1 glass  of English red wine
1/2 pint of stock (or 1 cube added to water)
Salt/Pepper
Method:
I started by frying the pancetta (made by my talented wife) then added the onions and garlic. The pancetta releases plenty of fat so there is not need for any additional oil. Fry until the onions start to turn glassy then add the venison liver, which I cut into strips, and chopped onions.
I found the venison liver to be substantially thinner than, say, lambs liver and it also looked a lot leaner, so I was keen not to over cook it. I added the rosemary and seasoned. I then fryed the liver for about 2 minutes, noting a slight pink still in the middle, and then emptied the whole lot onto a plate to rest while I made the gravy.
Using the same pan I added the wine and then the gravy stock and cooked until it achieved the consistency I wanted. I then added the rested meat mix back into the gravy for a further 20 seconds and served.
I served with broccoli and oven chips (not pictured – in case people thought we are not the sophisticates we purport to be 😉 ) I would say that a nice mustard mash would likely be better though.
Our findings:
What is the most suprising thing about venison liver is the texture. It is so soft that it absolutely melts in the mouth. In fact it has a mouth feel very much like foie gras, which makes it very very rich. The flavour is obviously like liver but, not suprisingly, more gamey.
If cooking it again I would be tempted to add something fruity, like cranberry sauce, to the gravy to cut through the richness of the meat.
In short, venison is nothing like the shoe-leather-like liver you remember from your school dinners. If treated right it has the potential to be the main ingredients to a very luxurious tasting dish which is great when it is really cheap.
– James