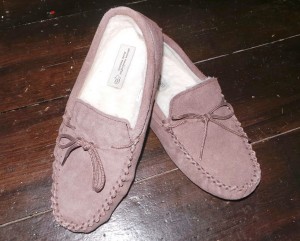 We have kindly been given a pair of mens' moccasins to review by fantastic Kentish business, Snugrugs, and just in time too. The weather has certainly taken a turn for the worse over the last couple of days. That being said, the good people at Snugrugs are not just concerned about our ability to keep warm this winter. They have kindly offered all of our readers 10% off everything online with the promo code 'BRITISH10'. Get involved!
Snugrugs were started in 2009 by husband and wife team Zoe and David Barnett. They started selling, as the name suggests, rugs and home furnishing made from animal hides. They have since expanded their range to menswear, ladies wear and luggage. They also boast now employing people in the States and in continental Europe.
The moccasins we have to review are made from a light brown soft suede and lined in wool. The best thing about these slippers is the price. At £15.99 they are handmade quality for a high street price tag. We have seen (and bought) similar products at three times the cost that have little perceivable difference in quality.
Originally moccasins were the preferred footwear if indigenous North American people and have seen continued use for about 5000 years. So, while they may remind many of what Granny used to wear or perhaps not fit the tastes of the trend-set they are a true design classic.
I am a size 9 or 10 shoe and I opted for the lower size to ensure a good fit. They are just large enough for my 'plates-o-meat' but I suspect they will loosen up over time. I would recommend that if you wanted to wear socks with your slippers that you order a size above your normal shoe measurement.
This is all well and good but surely only real measure of a good slipper is how comfy it is and I am glad to report that there are no issues their either. Would it be clichéd to describe them as 'snug'? Perhaps but that is what I am inclined to do.
If you are looking for a quality pair of slippers ready for the winter chill then buy your British made slippers here and remember to use the promotional code for your 10% discount.
Editor's Rating
Quality
Value for Money
Functionality
Design
Satisfaction
Total British Family Rating
– James