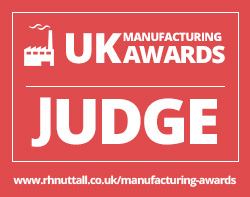 We are delighted to have been asked to be judges for this years UK manufacturing awards organised by RH Nuttall, a British manufacturer themselves. Joining us on the panel are a number of old friends of ours and we are pleased to be in the company of some very passionate advocates of British makers.
Help us out-
We now have three weeks to select three manufacturers, big or small, who deserve specific credit for their contribution to UK manufacturing. If you have any ideas about who you would choose please comment below (it might just influence our decision). 
The overall winner will be announced on the 5th May.
RH Nuttall are a maker of washers, gaskets and seals. For most this is not the most glamorous sector of UK manufacturing but non could deny it's importance. Anyone that knows the pain of a blown gasket in their car would understand how this relatively inexpensive part, if not of sufficient quality, can lead to very costly repair bills.
For more details about the awards and the process please see here: http://rhnuttall.co.uk/manufacturing-awards/
Other judges include:
Tony Boylan, from Still Made in Britain, who runs a rather excellent directory of British made stuff.
John Palaguta-Iles who is the founder of Made Closer, web-store for those wanting to source their purchase closer to home.
Anthony Gilsenan from British Made for Quality, which is a not-for-profit membership organisation for British manufacturers that campaigns on behalf of it's members.
We understand that there are still judges yet to be confirmed but each of those mentioned are deeply knowledgeable of the UK manufacturing sector. I am excited to see who we all think are the best manufacturers in the UK.