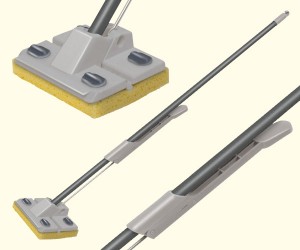 For me, finding useful everyday items made in the UK gives me a real buzz. So imagine my excitement at finding a British made mop!
Addis Housewares are a British company with a long history. Founded in 1780, originally making bone toothbrushes, they moved into the manufacture of general housewares in the early 1800's.
William Addis, the company founder, could be credited with inventing the modern toothbrush. William was jailed for inciting a riot in 1770 (for reasons I cannot ascertain) and while at His-Majesty's pleasure fashioned a bristle/bone concoction to buff his pearly-whites. He sounds like quite a character. Eventually his company launched the Wisdom toothbrush brand in the 1940's, becoming the Britain first mass-produced nylon toothbrush. Sadly, Wisdom toothbrushes are no longer made in the UK. The factory producing them in Haverhill, Suffolk closed in 2009. However, Addis do still make a large number of items in the UK, including my new Superdry mop.
Largely moulded plastic and costing just £12 it is surprising that the Superdry mop is made in the UK. This kind of cheap mundane item is all too often imported. If I was going to review it I would say that it is made well-enough and does exactly what it should. What more can I say…. our floors have never been cleaner.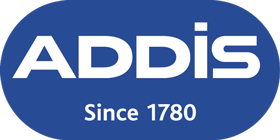 It should be noted that not all of the products Addis produce are made in the UK though. They also have large factories in Europe and the Far East, so it is worth checking the labelling before buying. Our mop was clearly marked as made in the UK. I will make contact with Addis and see if they can provide a comprehensive list of which products in their range are made in Britain and keep you updated.
– Emily
Editor's Rating
Quality
Value for Money
Functionality
Design
Satisfaction
Total British Family Rating