We thought it would be fun, for this post, to look at what was currently available on Ebay that is/was made in the UK. Ebay can be the home of the weird and wonderful so lets see what cool stuff we can find…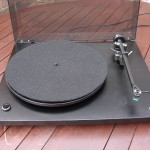 REGA PLANAR 2 TURNTABLE
Rega have been making record players, amplifiers and speakers since the 1980's… and I am please to say still make in England. This classic planar turntable from around the mid-80's will set you back  £175. Rega's latest range of players cost between £250 and £1000.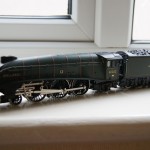 Hornby Trains. MALLARD LOCOMOTIVE & TENDER
The Mallard is one of the UK's most recognisable steam locomotive built at Doncaster in the 1930-40's. Around the same time Hornby launched their first 00 gauge train sets. This replica Mallard train was made in Britain before Hornby moved production to the Far East in the 1980's, along with the rest of the UK toy industry. Recently there have been mutterings of Hornby moving some production back to the UK… fingers crossed.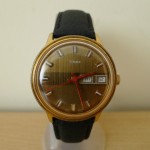 VINTAGE MENS TIMEX WATCH
Back in the day Britain made some fine quality watches and clocks. The names of Smiths, Ingersol and Timex were known throughout the globe as a mark of quality timekeeping. Smiths, as I understand it, still make specialist instrumentation in Derby but sadly non of these once great names make watches in the UK any more. So the only way to own a low cost British made watch is to go vintage. This Timex from 1975 is a great looking piece and at £17.50 it is less than the price of a crappy plastic Swatch.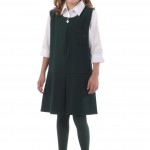 Girls back to school single pleat pinafore dress
Made by Pex of Leicester this girls school pinafore dress is included in this list because of the fantastic £7.38 buy it now price tag. A British made dress for under £10???( and people do not understand our annoyance when people say that clothes cannot be made at a competitive price in the UK).  That being said, I do not believe that all Pex clothing is made in the UK.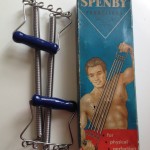 Vintage Boxed Spenby Exercisers – Chest Expanders
Dating from the 1960's this bit of vintage exercise equipment is boxed, looks in usable condition and comes with full instructions. The Spenby brand, based in Lancashire, was quick to catch on to the men's fitness trend coming from across the Atlantic with their own range of products aimed at the UK market. This, and an expanded chest, could you yours for just £9.99.
Reviewing and finding out about these products from Ebay has been great fun and I suspect that it might become a regular feature on our blog. If you have any memories or recollections of these products or find something interesting on Ebay please do comment below.