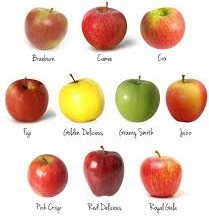 Fed up of powdery and tasteless apples? Buy them in season and you can be assured crisp and juicy apples all year long. Here is our guide to which British apples to buy and when:
Bramley  – August to July
Discovery – Early August to early September
Zari – September to October
Cox – Mid-September to early April
St Edmund's Pippin – Mid -September to mid-October
Gala / Royal Gala – Late September to early May
Russet – Late September to early March
Red Pippin – October to November
Rubens – October to January
Golden Delicious – November
Jazz – November to May
Braeburn – Late December to May
Support British apple growers and enjoy!
– Emily