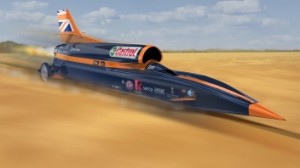 The British car manufacturing sector is now well publicised as being amongst the strongest in Europe, but did you know that there is a 1000MPH car being made in Bristol? It is called the Bloodhound SSC and is expected to be driven/piloted/held-onto by Brit Andy Green. His attempt at breaking the land speed record in 2015 will see him go supersonic.
In reality this machine has very little in common with the old jalopy parked in your garage. It is actually based on an RAF Eurofighter Typhoon that alone provides about 40,000hp. In comparison the famed Bugatti Veyron can just about splutter on with the power of only 987 horses.
So far only the cockpit has been completed, which has been hand crafted in the UK by URT Group taking more that 10,000 hours to design and produce.
This endeavor must surly bring back memories of Britain's past glories and figures like Donald Campbell who risked so much to keep Britain great! We wish them every success.
– James