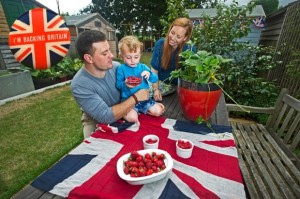 It is interesting how the media attention towards our project to only buy British seems to come in waves, and it feels like we are bang in the centre of another press maelstrom. We are constantly surprised by the level of attention but, what is more, we have struggled to  keep a our wardrobe looking fresh. The cost of buying British clothes means that we are generally wearing the same stuff in most of the TV and newspapers we do.
Anyway, we thought it would be nice to talk you through our ensemble as featured in The Sunday Times this past weekend:
Emily:
Jumper – Liv
Skirt – Home made by Emily
Shoes (not pictured) – Yull
James:
Top – Henry Hunt base layer
Trousers – These are not British made. Basically, we are struggling to find/afford British made trousers.
Belt (not pictured)- Made by James
Shoes (not pictured)- Barker leather slip-ons
Socks (not pictured) – Marko Johns
Underpants (mercifully not pictured) – Cahoonas
Lucan:
Top – Fieldlife long sleeve T-shirt
Shorts – Alpha Betty
Shoes – Daisy Roots Union Jack slippers
If you missed the piece in the Sunday Times you can read it (and our other press) on our press page here.