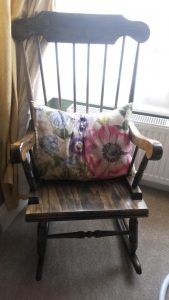 We have been lucky enough to have recently been sent a beautiful British made cushion from Evans Lichfield. Utilising the the work of a talented stable of British artists, Lichfield Evans specialise in fabric cushions that would feature wonderfully in any country house.
The company currently employ 50+ people in their West Midlands factory and create a product of outstanding quality (especially considering the price). Their cushions seem to me to be within a pretty reasonable price bracket – between £10 – £20.
The sample we were sent is made from 60% cotton and 40% linen and comes filled with a fibre-filled inner. It is a perfect sofa-size measuring in at 40cmX60cm and features large pink, purple and blue flowers printed to one side. Rather spookily they decided to send us a cushion that seems to fit our home decor pretty well. However, I am unable to find the same design on their website so am unable to tell you the artist.
While on the subject of their website, Lichfield Evans suffer from one of our pet hates – a great British made product underpinned by a poor online offering. Thier own website does not allow you to buy online but after some further investigation I was able to find an Amazon account for them which appears to stock much of their range (click here).
While there range might not suit all tastes, if you are going for a classic British country house look their cushions could be just the thing to finish off your living room.
Editor's Rating
Quality
Value for Money
Functionality
Design
Satisfaction
Total British Family Rating