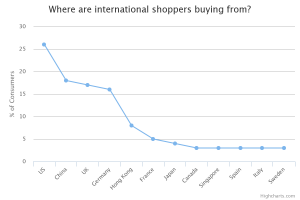 New research recently conducted by PayPal suggests that buying British is becoming an international obsession. According to the survey of 17,500 adults across 22 markets, the UK is the third most popular destination for online shoppers globally. The most popular territory for online shoppers is the US, followed by China.
China also seems to be fuelling much of the international transactions with the most popular items being clothing and beauty products. 45% of Chinese consumers have bought clothing, footwear or accessories from an international shop in the last 12 months. 38% have bought cosmetics or beauty products, and 31pc have purchased consumer electronics, including mobile phones, computers and tablets from international sellers.
It would seem sound advice for more UK firms, especially those in the fashion and beauty industries, to take advantage of China's buying power.