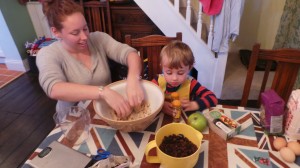 The last Sunday before Advent is traditionally called stir up Sunday. On this day it is a British tradition for families to get together and prepare their Christmas treats. Christmas pudding, Christmas cake and mince meat ready for your mince pies essentially use the same basic ingredients. As such if you are going to make one of these festive favourites you might as well make them all at the same time.
The recipes I used this year for the pudding and the cake were both adaptations from basic recipes from Nigella:
Ultimate Christmas Pudding (click here)
Easy Christmas Cake (click here)
The mince meat recipe is one that I have used from Delia for many years:
Mince Meat (click here)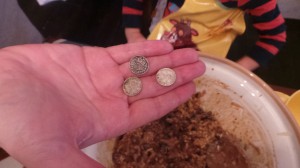 Being sticklers for tradition we always put threepenny bits into the Christmas pud (these have been in my family for 3 generations now), and the whole family have a go at stirring them in. Apparently, in a recent survey  two-thirds of British children, revealed that they had never experienced the tradition of stirring Christmas pudding mix.
It is important to us that we pass these uniquely British traditions on, and the experience is also a lot of fun for all…. plus the house really begins to smell like Christmas. Get stirring!!!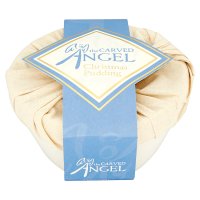 However, if you must buy your Christmas pudding there are some really good ones sold in the supermarkets. Last year we bought a Carved Angel pudding that was absolutely fantastic (of course they are British made).
– Emily