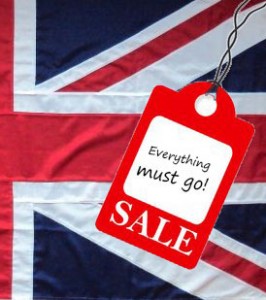 Britain has sold off more than half of its companies to foreigners, but does anyone really care?
When asked to think of a quintessentially British company you might instantly consider Boots the chemist, Jaguar Landrover, Mini, Selfridges, Harrods, The Savoy, Fortnum & Mason, Cadburys, the Dorchester, Debenhams, ASDA, MG Rover, P&O Ports, British Airports Authority, Corus (formally British Steel), British Energy, ICI and lottery operator Camelot. However, each of these businesses, and far too many more to mention, are now in foreign hands.
The long standing argument has been that foreign investment is a good for Britain. Indeed past labour, and conservative, governments have both been keen to erect the for sale signs, rubbing their hands at the windfall of much needed fund this bought into the economy. And indeed it did just that, in the short term.
What has not been considered has been that the vast majority of these companies, once sold, instantly move offshore and exploit every loophole imaginable allowing them to pay negligible, if any, tax. Soon after the takeover of Boots by an Italian conglomerate its headquarters where quickly moved from Nottingham, where it had been based for 161 years, to Switzerland. Before the takeover Boots paid £89 million in British tax each year. That figure has now shrunk to just £9 million. If we now consider that this same scenario might be happening in over half of our registered businesses is it any wonder that Britain is in economical turmoil?
But it does not end there, as of 2012, foreign corporations also controlled 39 per cent of all UK patents. This is far more than the percentage of foreign-owned patents in the U.S. (11.8%), Japan (3.7%) or even the European Union as a whole (13.7%). Meaning that Britain innovation is also being sold abroad with little regard for the future.
Perhaps this is the price we pay for operating in an increasingly globalised world? Well no – Britain is unique in having such a lax attitude to selling off its family silver.
Other countries adopt an 'economic patriotism', not seen in the UK, which involves putting obstacles in the path of foreign bids. Take France, for example, which continues to argue that it's in the national interest to prevent key businesses falling into foreign hands. Like when the U.S. drinks giant PepsiCo made a bid for the French food firm Danone in 2005. In the end, the then President Jacques Chirac declared that the French yoghurt-maker was considered a 'strategic' company, so couldn't be sold to a foreign firm. And then again when, in 2006, the takeover of energy firm Endesa by German owned E.ON was on the cards the Spanish used a similar tactic to block the deal going through. However, just one year later Scottish Power was easily snapped up by  the Spanish investors.
More globally;  India, Japan and the USA all have processes that allow them to block foreign ownership yet we in Britain are happy to sign over our crown jewels to the highest bidder.
So who or what is to blame? Well it seems to be a clear mix of government complacency and shareholder greed are at the heart of what has fuelled the continued downfall of British industry. But the worst thing is that there are no signs of a resolution anywhere on the horizon.
The concern is now that skills have already been lost, iconic brands have been asset stripped and rendered worthless and irreplaceable infrastructure as been sold off. We have had an overarching rule since we started our blog over 3 years ago – to remain optimistic in our reporting. In this case we are going to have to break that rule because we have to admit that, on the face of it, Britain might already be too late to save.
Our thanks to Alex Brummer (author of Britain For Sale: British Companies In Foreign Hands) for inspiring this post.