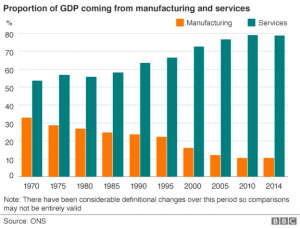 The last 10 years have been turbulent for British manufacturing. The sector grew gradually from 2005 to 2008, at which point it took a hit due to the global economic crisis. Recovery began again in 2010 and there was positive news of 'green shoots' until the beginning of 2012. However, there has been significant volatility since then. Most worryingly of all, the last 18 months have seen a terrific nose dive across most areas of UK manufacturing. Is this the end of the great British manufacturing resurgence we were promised?
Manufacturing currently accounts for just 10% of the output of the UK economy as a whole. If you look at the figures (right) you will see the full scale of the free fall in UK manufacturing since 1790 (where it accounted for around a third of GDP).
But what is considered to be the reason for the latest decline?
In recent years any growth in British manufacturing has, in reality, been more down to foreign investment rather than 'proper' domestic growth. Looking back, foreign investment was only ever going to be a brief plastering over the cracks. So, while politicians were last seen patting themselves on the backs and hailing themselves as saviours of British manufacturing what was actually happening was a lot more dangerous – basically selling the family silver.
Most recently there has been a big problem for foreign investors: the strength of sterling. A strong pound makes investing in the UK more expensive and it makes their products more expensive to export once they have been made. This has put the breaks on anticipated streams of foreign money to underpin the sector and shows the reality of the situation: Manufacturing is in dire-straits.
The headlines are doom and gloom at the moment. The only viable long-term solution is to help British owned manufacturing businesses do it on their own. Unfortunately, this does not seem to be the focus of our current government who seem intent on selling everything at bargain prices.
But let's try to end on a more up-beat note – let's take a look at a breakdown of what we do still make: