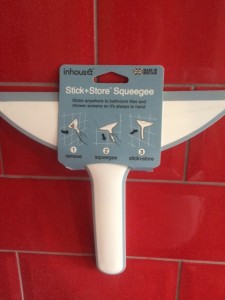 INHOUSE make a small but increasing range of handy home innovations which are are currently stocked exclusively in Lakeland stores. What is more, I am proud to say that all of their products now display our free to use made in Britain logo.
All of INHOUSE's products are designed by owner Steve Britton-Williams, who, it must be said, is big supporter of  British manufacturing. Once every few months James gets a call from Steve and the two of them spend a good deal of time setting the world to rights. Steve has been promising to send us some samples for about 2 years and recently came good. He provided us with his redesigned squeegee and some of his ingenious stick and store shower pads to review.
The shower pads attach to any bottle then you can stick that bottle to any non-porous surface, like a tiled wall or glass screen. The idea is that it not only clears your shower tray of shampoo bottles (a significant issue in our house) but allows you to hang them upside down in order to get the last of the content out easily. Basically, it is one of those products that you never knew you needed until you use it.  For £2.99 each they are a pretty well priced too. Check them out here>>>
The focus of this review is the squeegee. It looks like many others that you might have seen, or have used, but with one distinct difference. The INHOUSE squeegee has little suckers on the front which allows it to be conveniently stored on (again) any tiled or glass surface.
I imagine that there is little difference from how effectively one squeegee works to another. The concept is pretty simple – a rubber blade attached to a handle (Steve might disagree). So, then we need to look at what sets this one apart. It does looks really smart and feels rather nice in the hand but again this is perhaps no different to other similar products at a similar price point. The real sell for this device is the ability to store it utilising the suckers. So how well do they work?
We have tested the squeegee (and the stick pads) over the course of the last 6 weeks or so. The power of the suckers, we found, lasts reliably for about 3 days on tile and little longer on glass. It has to be mentioned though that you need to read the instructions for achieving a lasting stick. We found that we ended up using the squeegee after every shower, in order to prevent a build up of lime scale on our glass shower screen, so this is where we stored ours. This regular use has meant that there have been very few occasions where it has not remained in position when we have come to use it again.
In terms of price the INHOUSE is about middle of the range in Lakeland, where Squeegee's start from  £3 and go up to  £15. So, in terms of price I do not think that it is too bad at all.
The INHOUSE Squeegee: It does the job a squeegee should and it does it at a fair price but has one innovation no other has. It is also, let's not forget, made in Britain. So, I see no reason you would buy any other Squeegee to fulfil your squeegeeing needs. You can get your hands on one here>>>
We always say this but it is actually finding the mundane everyday items that are made in Britain that really excites us. Finding things that you would expect to be made in the Far East but, generally for reason of the manufactures passion and commitment to quality, are made here. The INHOUSE Squeegee is one shining example of this.
– Emily
Note: You know when you use a word so much that it loses all meaning and begins sounding alien to you?… Squeegee!
Editor's Rating
Quality
Value for Money
Functionality
Design
Satisfaction
Total British Family Rating