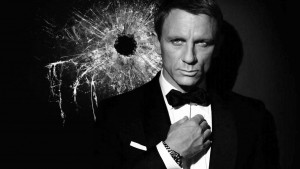 Ever since James Bond was sent on his first big screen mission in 1962's Dr No, the most successful franchise in movie history has been a shop window for British manufacturing. Is Spectre, the latest incarnation of Ian Flemings infamous MI5 agent, going to continue to promote brand Britannia?
Bond famously has a weakness for British cars. Along side his famous Aston Martin  he has been spotted driving Landrovers (made in Coventry), a Lotus (made in Norfolk) as well as riding a Norton motorcycle (made in Leicestershire) and even at the helm of a Sunseeker Yacht (made in Hethel). In Spectre, Range Rover and Jaguar models once again line up alongside Bond's trusty Aston.
But it is not just about the cars – Cumbria Crystal's hand blow cut-crystal has been Daniel Craig's whisky glass of choice thought his tenure as oo7 and is once again featured in the new film. And his tipple of choice? This is previously been Talisker whisky but apparently he has, in Spectre, now developed a taste for Macallan.
In addition, we are all aware of Bond as a well travelled gent but did you know that his luggage is made by British brand Globe-Trotter, from Hertfordshire, and that even his undies are British made, by Sunspel in Nottingham?
However, not everything about 007 is produced in the UK. Controversially, Bond has been sporting Omega watches in his last few outings. I would like to suggest that Bremont might be a better British alternative. And, mainly due to the films being produced by Sony pictures, he will continue to sport a Sony mobile phone in the latest film. Again, an alternative might be a phone produced by Vertu (Made in Hampshire). With their handsets starting at £5,000 a Virtue seems a little more his style anyway.
Lastly, James Bond has always been known as a dapper dresser and there are plenty of British made options for him to choose from. However, 007 tends to opt for Tom Ford suits, topped off with Tom Ford Sunglasses, which, while a British designer, I don't believe makes any products in the UK.
So, our favourite not-so-secret-agent continues to fly the flag for Britain and what better advert could there be for the brilliance of British manufacturing?!
If you manage to spot anything else British made in the lasted James Bond movie please do let us know by commenting below.