A little while back the fabulous people at Tiffany Rose sent me one of their exquisite dresses to review. It was not easy to stop myself from immediately putting it on and wearing it just about everywhere but I managed to hold off, saving it for our fabulous celebration of all things British made, The British Family Fayre.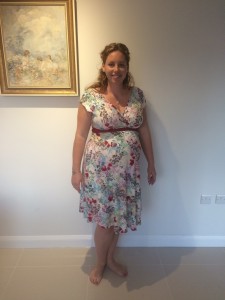 When it first arrived, the care that goes into every dress was evident from the beautiful box and packaging. While the dress is relatively simple in design, the construction and the care to flatter and enhance the pregnant shape was clear. The dress is fully lined which really adds to the comfort and also again to the shape on the body as its not everyday that I would feel confident enough to wear a relatively clingy dress like this. I must admit that the comments came streaming in about the dress and in particular the beautiful fabric, from those who visited us at the fayre and since then I have worn it to work where even the children at my school commented on how pretty I looked!
Tiffany Rose are a British brand through and through, designing and manufacturing every dress in the UK. They have also started sourcing the jersey fabrics from British mills and are helping to keep the fabric mills in the Midlands whirring and giving the local areas vital jobs.
For those not needing maternity wear, their stunning dresses are also available without the maternity extras on their sister site Alie Street, London. Here their passion for beautifully made clothes continues without needing to accommodate a bump and I for one, will be back there for dresses once the newest Bradshaw is with us.
If you would like to check out their full range the websites are http://www.tiffanyrose.com/ and http://www.aliestreet.com/ respectively.
I am very excited that I might also get to go to the workshop sometime soon to see their manufacturing in process and as soon as we are all sorted I will post more!
– Emily
Editor's Rating
Quality
Value for Money
Functionality
Design
Satisfaction
Total British Family Rating