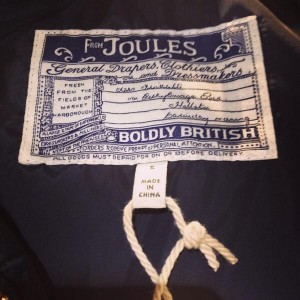 There is a bit of controversy on Twitter at the moment surrounding high street fashion label Joules and their use of the tagline 'boldly British'. There seems to be general anger that this statement misleads the consumer into believing that the garment is made in UK. I would have to say that this could be true. Joules, I am sure, would say that they are aligning this statement with the design origin and not the place of manufacture. They might also likely be quick to point out that in the same picture it does state that the item is 'Made in China', like the vast majority of Joules clothing.
However, I feel that the size and style difference of the two typefaces used in both the 'boldly British' statement and the 'made in China' tag are likely to confuse the average consumer. Then couple this with phases like 'fresh from the fields of Market Harborough' (as opposed to the fields of Beijing) and the brands general overuse of the British flag, and associated themes, and you begin to see what people are not happy about. Jack Will is another brand which markets heavily based on shallow British provenance.
It has to be said that Joules make some great clothes that are well designed and in a style that Mrs B and I both appreciate, but it just isn't British made and not confusion to the contrary should exist. Legally Joules are untouchable in the matter, but morally??
What do you think?
As you may know I am on the board of the Made in GB campaign that has launched a logo that guarantees British manufacture when shown on a product.  This logo is set to become the recognised standard for British origin goods across the globe and will remove any instances of doubt for consumers. See more about this campaign here: www. madeingb.org
–          James