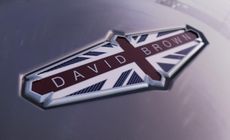 An all-new, British luxury automotive brand is coming soon, promising to refresh the classic British sports car market.
David Brown Automotive, named after its founder, is said to be launching their first car this year. David is apparently not settling for an update on an existing model, it is a totally brand new car, but with limited production. Interestingly he has bought in key industry talent to help him led by Alan Mobberley, who was chief designer as Land  Rover.
David explained: "I wanted all the impact and style of a classic sports car, but with modern capabilities and conveniences. This is what I want in a car, but it's not something anyone really offers. So, I've created it myself."
The British automotive industry is now the 2nd most productive in Europe, but more than 90% of this production is for foreign owned brands. This project will be a British owned automotive brand added to a tragically exclusive list that currently includes Morgan, Caterham and few others. So this is great news!
There are very few details around at the moment but the result – codenamed "Project Judi" – will be revealed in April 2014.  We will bring you more when we hear.  In the meantime we suggest you get saving your pennies because we suspect this car is not going to be cheap.
– James