Those that follow our blog know that we are not afraid to tackle the BIG issues. For our first blog of the year we are going to be talking sauce! Not just any sauce, but the brown variety.
Today the papers have announced that sales of brown sauce are taking a dramatic decline (about 19%). For over 100 years the unlikely mix of dates, tamarind and vinegar has graced the tables of greasy spoons across the nation. Although, it has never managed to take off anywhere else in the world.
HP, perhaps the nations favourite, sauce was created in 1895 by Nottingham grocer Frederick Gibson Garton, who claimed it was being served at the Houses of Parliament. However, the recipe has far more ancient roots dating back to the Romans when it was served as an accompaniment to oysters.
Neither HP nor their nearest rival Daddies Sauce are produced in the UK any longer. Both now being imported from Holland. If you are, like us, a lover of a dollop of Brown sauce on your bacon sarnie then you may be glad to hear that there are British made brands which are far superior. We have tried some of them, so here are our findings: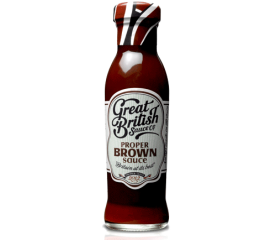 Great British Sauce: Proper Brown 
GB sauce are firm favourites with not just because the launched at the British Family Fayre 2013 but because everything in their increasing range of sauces is FANTASTIC, and their brown sauce is no exception. Subtly spiced and with a very natural flavour they use only the very best ingredients… and it shows. They are quickly winning over foodie fans across the nation.
They are currently stocked in Sainsburys and a 330g bottle will set you back £2.00.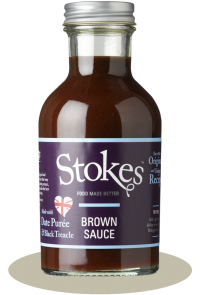 Stokes: Brown Sauce
Some people love Stokes sauces but I personally struggle with a weird 'plasticity' that exists across all of their range, including the chutneys. It is hard to describe but I am simply not a big fan.  Their brown sauce suffers worst of all from this odd 'mouth feel', in my opinion. I would love to be more positive, and would love to hear your differing opinions, but I just do not like it.
That being said Stokes sauces are really popular and very widely stocked. A 320g bottle of Stokes brown is priced £3.10.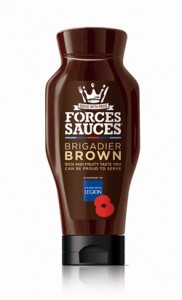 Forces Sauces: Brigadier Brown
The major USP for this sauce is that fact that it supports those that have formally served in the British Armed Forces with their profits.  A truly great cause. However, what is the sauce like? Well, pretty darn good actually. The one thing I would say about this sauce is that it is really spicy! This is great on occasion but sometimes it is a little too much for me. If you like a fiery sauce then this is the one to get.
We bought ours from Waitrose but I know that other supermarkets also stock it. At £3.80 for a 500ml bottle it is rather expensive too.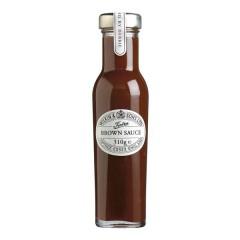 Wilkin & Sons: 'Tiptree' Brown Sauce
The Tiptree Brown sauce is sweeter than the others on this list and sweeter even than HP. That being said it is still a really great sauce that has a very natural flavour. One more thing is that the Tiptree comes out a little thinner than I like personally but that does not stop it being a regular on our breakfast table.
Wilkin & Sons stock in various supermarkets including Waitrose and costs £2.00 for 310g.
There, you have it. A quick review of just some of the Brown sauces still made in the UK. If you have tried any others please do let us know in the comments section below.
– James