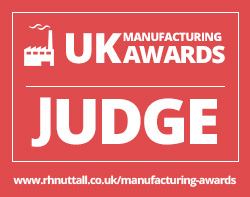 We mentioned in an earlier post that we had been asked to judge the UK manufacturing awards, set up by gasket maker RH Nuttall. Well, after much consideration our nominations are in.
It was harder than we imagined but in the end we decided on Ebac Ltd, Mr Singh's Sauce and Sockmine (Roy Lowe & Sons Ltd).
Ebac Ltd are a bit of an obvious choice. They are committed to UK manufacturing and continue to push the boundaries of what is made here. They have recently launched the only washing machine to be made in the UK and revived the Norfrost brand of freezers. In our view they have likely got this competition all sewn up.
Mr Singh's is a family fun business and manufacture hot sauces (which are fantastic BTW) and since winning investment have gone from strength to strength. They have begun exporting abroad and have an enviable commitment to quality. We keep saying this, but they are also the nicest people you will meet. If for no other reason than being 'good people' they deserve recognition.
Sockmine are a brand owned by Roy Lowe & Sons UK manufacturer of socks. They are produce socks in varying styles but their sports socks are the best we have found. They are great example of a solid business producing a simple product but doing it very well.
So there you have it – our 2 cents of who we admire in UK manufacturing. It is interesting to note that some of the companies we considered but did not choose have also been nominated by the other judges….. namely, Netherton Foundry and Numatic.
The next step is choosing the winner.