Last night the Shepherd Neame brewery in Faversham, Kent played host to our first end of year Christmas drinks reception. An informal affair, the event was an opportunity to say a big thank you to some of those that have supported us over, what has been, a remarkable year. We are pleased so say that  over 40 people (mostly from British manufacturing) joined us for an good ol' knees up at this unique and historic location.
The day began early. 5am and Lucan was wide awake. James got up with him after a fitful night suffering with flu – he was awake anyway so dutifully volunteered. We were all out of the house by 8am on our way to the first of 2 supermarket runs for the day. Our mission to to find suitable British food to line the stomachs of our guests.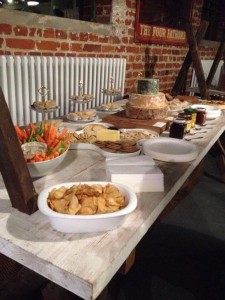 A Truly British Buffet
We had decided on a buffet of centred around an extravagant 3 tiered cheese cake made up of Cornish Yarg, Cropwell Bishop stilton and superb organic chedder that we had already been delivered the previous evening. To compliment this we bought Nairns oat cakes, Thomas J Fudge's flats and Miller's Damsels Charcoal crackers. This was accompanied by seasonal fruit, Tyrells Crisps and a selection of breads. For dessert we opted for Waitrose' fabulous  mince pies, a chocolate star, Christmas vanilla cheesecake and hazelnut and chocolate festive ring. We would certainly recommend this for anyone that wants to feed a lot of people on a budget and it looks pretty impressive too.
We then dropped Lucan off at Granny & Grandad's house where he would spend the evening eating rubbish and staying up way past his usual bedtime.
The reason for our second supermarket trip was that Waitrose paper plates and serviettes were not made in Britain but we knew from past experience that Sainsbury's were. So, after a quick pit-stop to collect these few last bits our car was fully loaded and off we went to Faversham.
We had booked into a hotel in the centre of the town which turned out to be pretty grotty. We are not about reviewing hotels so it would be a little unfair to say exactly where this was but let's just say we were not overly excited to be spending the night, following our party, in this hotel.
We got to Shepherd Neame about 5pm. Our guests were expected for 7pm but there was plenty of set up to be done and a couple of interviews to give to the press before their arrival. The team at Lincoln West came early to set everything up and organise the goodie bags.
We would like to say a quick thank you to Happy & Glorious for supplying the actual bags and some gorgeous gifts and also; Great British Sauce, Ideal, Distinctive wash & Romney Marsh Wool for also adding something to the bags for our guests to take away with them.
The evening started off slowly at first. Issues on the motorway meant that many revellers were fashionably late but by 7.20 we ha the start of a great crowd. The beer flowed (Thanks to Shepherd Neame for supplying a quantity of free beer to warm things up), the food was enjoyed and much mutual congratulatory back slapping was undertaken. After a characteristic rambling speech by James we could relax and enjoy the evening.
Howards of Kent bought some Limoncello for people to try and ThinkNoodle games bought some copies of their City of Zombies board game for people to try. The City of Zombies is a beautifully illustrated numbers game aimed at helping kids (young and old) get quicker at mental arithmetic and judging by the crowds around the table it is a real hoot.
By 11pm it was time ring time on the evening. James and I, along with the Lincoln West guys, cleared up and said goodbye to Shepherd Neame and by 11.30pm we were out the door and tucked up on our uncomfortable hotel bed. 
It was a long day but ultimately a lot of fun. We hope those who joined us enjoyed it as much as we did.
– Emily
This event was kindly sponsored by http://www.cityofzombies.com