Wild garlic is currently in season and in abundance along hedgerows up and down the country. They say there is no such things as a free meal but this simple recipe is as close as you can get.
I am allergic to nuts so cannot actually eat regular pesto. So, I have experimented for years with my own nut free alternatives and this is about the best. What is key to note it that it is so simple and, combined with pasta, makes a meal for under 10p per serving.
Ingredients
A big bunch of fresh wild garlic
Breadcrumbs
Rapeseed Oil
Strong English Cheddar
Salt & Pepper
The method is simple – just throw it in a blender and blitz until it is a rough paste. Throw a few table spoons of the mixture over pasta and serve. What remains of the mixture can be put into a jar and stored in the fridge for up to 2 weeks.
Wild garlic is a fantastic ingredient but must be used immediately it is picked or it loses all flavour. Also, do not under estimate the importance of British rapeseed oil to this recipe. If you use olive oil… it will not taste half as good.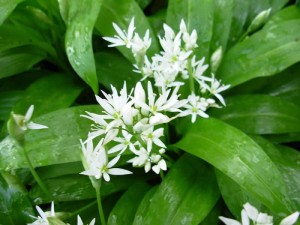 Finding wild garlic
Wild garlic is mainly found in woodland or in hedgerows but you will smell it before you see it. The strong garlic smell will lead you directly to it. However, if you find bluebells the garlic will not be far away. The plant itself has long flat leaves and topped with small white flowers.
Unlike 'normal' garlic the leaves are more important than the bulbs. With a sharp blade cut the garlic as close to the base of the plant as possible and only take what you will use that day.
– Emily