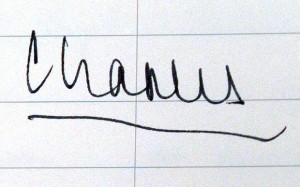 I am worried that this might be the second politically themed blog in as many weeks. Guido Fawkes we are not, but here goes…
So, The Guardian has spent 10 years and close to half a million of tax payers money disclosing a series of letters between Prince Charles and Tony Blair sent between 2004-2005 and the only real expose is how poor his handwriting is. Indeed, I would have hoped, given the best education that money can buy, that his longhand might have been a little neater but it is now clear that all the effort to publish the letters was not worth all the fuss. I suspect this was not the scoop the journalists had been rubbing their hands over all these years.
What actually come across in the letters is how 'in-touch' he is and how much he genuinely seems to care about certain issues, particularly around the state of British farming. He was certainly before his time in warning of Britain's lack of self-sufficiency and his concern about the power of the supermarkets- matters that have, in recent years, come to prominence through various campaigns by the NFU. I could not help but feel, when reading the letters, that if any of the actual politicians cared as much there might be a little bit more optimism around at the moment. In short Charley came across as one of the good guys. Royalist or not, I think that cannot be denied.
Of course there is mild controversy for his avocation of the badger cull but who could not have predicted his view on that issue?!. He is himself a farmer and all farmers advocate culling.
Perhaps the massive spend in legal fees and the time taken to get these letters in the public domain was worth it after all. British farming can now be sure they have a tireless campaigner and lobbyist on their side who does not crave publicity for his efforts. We should all take some comfort in that.
– James
If you miss our usual eclectic mix of British made product reviews, recipe ideas using British ingredients and general adventures across the UK – We promise that normal service will now be resumed.