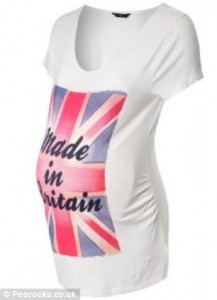 The Mail on Sunday are running an article about how Peacocks are selling a maternity t-shirt with the words 'made in Britain' emblazoned on the front, while the shirt itself is made in India (see here). What is great about this article is that it tells of the anger and dismay from a consumer perspective.
Those that follow our blog will know that it is a bugbear of our that many products are promoted because of their British credentials but are often found to abroad. The fashion industry is one that suffers most from this. Brands like Jack Wills and TM Lewin are keen to show off a proud UK heritage but in fact their products have little to do with Britain as far as manufacturing is concerned.  When I saw the image of the £10 T-shirt from Peacocks I had to firstly wonder who in there right mind would wear that fashion disaster and secondly did anyone really believe that it was made in the UK because of the rather hackneyed slogan. We have seen far more deceptive non-British products than this on sale (our ironing board for instance).
Either way, what is great to see is that consumers are making a fuss. It tells the retailers in no uncertain terms that we do care about what is made in Britain. I predict a lot more of these types of stories in the media before the year is out. Retailers beware!
– Emily