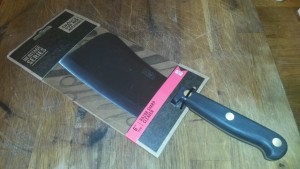 Located at the heart of Sheffield town centre is the factory of British cutlers, Taylors Eye Witness. There they have stood proudly for over 200 years and I have recently bought into a small piece of this heritage by purchasing my first Sheffield made kitchen knife – a 6″ Heritage kitchen cleaver.
Sadly, I had to order the knife online as I was unable to find the one I wanted in any of the stores local to me, however John Lewis do stock certain TEW branded products. I made my purchase through a website called Kings and Queens who offered the knife at a fair price (£40). However, it took over 2 months for it to eventually get to me. Needless to say I was not happy and was never really given a proper explanation for the delay. I sat tight and eventually my order arrived… but was it worth the wait?
The first impressions of the knife was that it is exceptionally well made, well balance and a nice size. Unusually perhaps, I use a cleaver in about 90% of all of my cooking. I like that it is a 'do all' sort of instrument. You can obviously cut with it but you can also use it bash garlic, chop herbs and scoop produce easily from board to pan. My previously much loved cleaver had given many years of good service and I had even managed to re-handle it a couple of times, but it had sadly 'chopped its last salad' when it, rather dramatically, snapped in two. My new Taylors Eye Witness seemed like a worthy replacement (if not an upgrade).
The cleaver sports a 6″ stainless steel blade and a tang which runs through the handle. The handle itself has the appearance of brushed ebony but on closer inspection is actually plastic. Not that that is an issue. The weight of the knife is exactly where it should be, right over the front point and, while heavier than my old cleaver, does not feel cumbersome. In short, my first impressions were good.
However, the knife is advertised on the packaging as being 'razor sharp' but is in fact anything but. The first test I put the knife through was cutting an onion which it tended to try and crush rather than slice. As you might imagine, I gave up pretty quickly and reverted to one of my old kitchen knives.
There is nothing more dangerous as a blunt knife. So that evening I set about sharping it. And when I say sharpening it I do not mean a few passes through a domestic sharpening steel a la Gordon Ramsey. This needed a proper industrial style sharpening. Luckily I have the right tools at home to do this. I am afraid that those that do not follow the boy scout code as closely as me (be prepared) would have to take it into a professional. I might be being a bit harsh and perhaps it is because I use this type of knife beyond what they were originally designed for. Maybe I am asking too much?!
After nearly an hour I managed to hone an edge onto the knife that you could quite literally shave with. It now slices through anything in its path and is an absolute joy to use. I expect that it will last me 10 years or more of everyday use and my initial frustrations have since faded.
A bit of history
The first recorded mention of Sheffield cutlery was in the records of King Edward in the mid 1300 and a little later Chaucer wrote about a Sheffield knife in the Reeves tale. However, it was not until the 17th and early 18th Centuries the Sheffield cutlery started gaining extra growth when new developments in increasing the quality of steel gave the cutlers a finer basic product to work with. As with most trades during the industrial revolution the specialisation certain parts of manufacture also helped the industry to grow. By the mid 19th Century, the Sheffield cutlery trade employed ten thousand people, and by the end of the Century more than fifteen thousand. In comparison, London had only 500 cutlers at the latter half of the 19th century. By the 1920's a new development – stainless steel started to be used, developed by a Sheffield metallurgist, and it is now the standard material for knife blades made today.
– James
Editor's Rating
Quality
Value for Money
Functionality
Design
Satisfaction
Total British Family Rating