Two more iconic British brands have recently been sold to the highest foreign bidder. Ribena and Lucozade have now left these shores, likely never to return. Apparently, £1.35bn buys a slice of British culture and 150 years of childhood memories. I personally have fond recollections of both brands:
Whenever I was sick as a child a bottle of Lucozade would magically appear by my bedside. No matter what the illness, this bright orange elixir would be the apparent cure. I am still convinced that it can cool a fever, stop the itch of chicken pox or even re-grow a limb. I recall the old glass bottle contained in a cellophane film and the slight medicinal smell as the first gas escaped when I twisted the metal lid.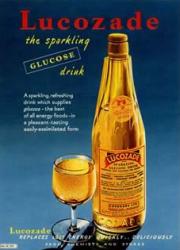 Then there is Ribena. Well known for being responsible for 95% all the UK's black current production, and did you know that during the war this blackcurrent syrup was one of the nations main sources of Vitamin C? Again, my personal recollections of this brand are well ingrained into my psyche, and without these cartons of sugary liquid my early summers would have never been the same.
Is it silly that a grown man should have such an emotional response to two overly sweet drinks? I challenge anyone to not have similar memories. So, when we talk about brands being worth billions of pounds I say they are worth much more. To me they are worth over 150 years of British cultural significance and the childhood memories of multiple generations of a nations children.
Some may suggest that this post is overly dramatic, and perhaps that is true, but it is difficult to see why we do not, as a country, value our Brands far more than than we do. There value is not just financial but cultural and when we sell a brand as iconic as Aston Martin or Cadbury or HP Sauce (the list is tragically endless) it feels like we lose a bit of our selves.
– James