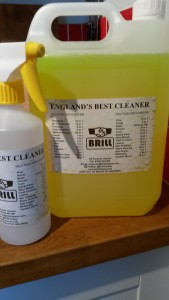 We are often given some weird and wonderful things to review and Brill Cleaner is both of these things. While we may not be a usual audience for a commercial cleaning solution, we are happy to put any British made product through it's paces.
Brill cleaner is an economical, do all, budget cleaning product for businesses. It comes in a minimum 5ltr bottle but you can buy it online in quantities up to 500ltrs. What is more – this stuff is delivered in concentrate. Meaning that, depending on the application, you need to dilute it with water by as much as 20:1.  As you might imagine, the 5ltrs provided for us to review is likely to last a very long time in a domestic setting.
Brill seem pretty proud of the fact that create just one, no nonsense, product. It is sold in wonderfully no frills packaging, with literally no expense spent on design. Although, they do boldly announce that it is 'England's best cleaner' in large type right on the bottle. They also claim that it can be used for just about any cleaning job, from windows to ovens.
Brill's business model seem to be that all of their budget is best allocated to producing a top quality cleaner that is delivered at the best price point, at the cost of any finery. In fact they claim that 500ml of ready to use solution costs around 28p. If you consider that most supermarket brands roll in at around 10-20 times that cost there are some, not insignificant, saving to be had… but is it any good?
The short answer to this, you will be glad to know, is yes!  It works about as well as any brand of household cleaner I have ever used for all of the jobs we tested. This included using it to clean our rugs, James' motorbike, a tiled floor, a wooden floor, our shower, our kitchen and more. Using this product does make me think about all of the money I might have wasted over the years on other branded products.Is it that we are all being taken in by the marketing???
Surprisingly, in having stood up to our rigorous testing,  Brill cleaner  contains no acid, ammonia or bleach. I am not sure what else it could contain but Brill also claim that it is also fully biodegradable. So, where is the catch?
Well, it is fair to say that Brill cleaner makes absolutely no attempt to hid the smell of whatever magical ingredients are within. It does not smell bad but it certainly does not smell like a pine meadow, apple blossom or whatever fragrance is in your usual domestic cleaner. It smells, perhaps unsurprisingly, like cleaning fluid. This might be enough to turn off some potential domestic users, but not us. I find the smell reassuring, almost an affirmation that I am actually getting something clean. However, thankfully, the odor does not tend to linger so I am happy to carry on using it until I finish the whole bottle… then buy some more.
– Emily
Editor's Rating
Quality
Value for Money
Functionality
Design
Satisfaction
Total British Family Rating