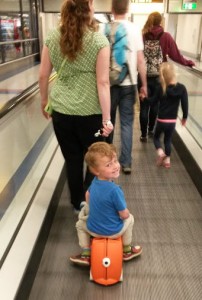 Trunki are a true success story for British manufacturing. For those not in the know (or have not been to an airport recently) – a Trunki is a ride on suitcase for kids. Lucan got to try his out for the first time recently, at Gatwick airport, on our first foreign holiday in 5 years.
After a number of years of being produced in China the first Trunki to be made in the UK, called the MK5, rolled of the production line in late 2012. Despite owning two of them, our holiday to Italy was the first time Lucan had an opportunity to really put a Trunki through its paces.
The company came to prominence in a 2006 episode of Dragon's Den when, designer Rob Law, famously rejected £100,000 investment from Richard Farleigh. The product that was featured in the program was made in China, as they were for the following 6 years. However, Rob spent 2 of these years completely redesigning the product so that it could be made in the UK. They have now sold over 2 million cases worldwide and it is unusual to visit an airport and not see a child on one. I imagine that many of the Dragons are now kicking themselves.
From outward appearances you would be excused for thinking that, as luggage, the Trunki might be less than worthless. In fact it measures just larger than your standard hand luggage allowance. This caused some initial panic in the Bradshaw household but after some research we found that most airlines (including Thomas Cook who we flew with) actually mentioned them by name as acceptable under their hand luggage rules. Now confident that we would be ok, Lucan filled up his British made tiger Trunki with everything he would need for 7 days in the sun and off we set.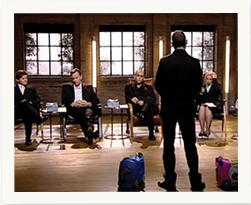 Airports are a stressful place, often made worse by bored children. The Trunki is the ideal antidote to this. It is highly practical but also tremendous fun. Upon arrival at Gatwick Lucan immediately wanted to be pulled on his Trunki.  The highly polished floors, that airports the world-over are fond of, make the ideal trace track for a kid and his Trunki. You can really get up some speed on them. I even had the situation, while I was pulling him along, that he was actually overtaking me – legs in the air and big grin on his face.
As the person responsible for both pulling Lucan along and dragging a large roller case, steering the Trunki took a little bit of practice. More than once he and Trunki ended up under the legs of some unwitting passer-by, something Lucan found immensely funny. Once you get over having to apologies to strangers for tripping them up, the Trunki is great fun for the adults too.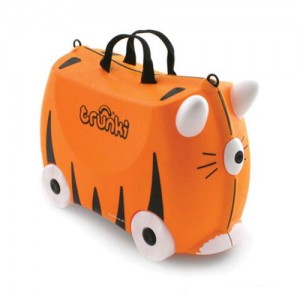 I mentioned earlier that Lucan owned 2 Trunkis – the first is an earlier Chinese built one and the tiger Trunki, we took on holiday, was a later British built one (Kindly gifted to Lucan by the good people of Trunki themselves). The differences between the two are very subtle but most noticeable is the lack of metal components in the British made version. Trunki explain that this is actually a design feature that allows them to completely recycle them and makes the replacement of parts easier. One might expect that replacing metal with plastic might actually make the product weaker, but having them side by side, I can honestly say that this is not the case.
I would like to be able to say that the British one is of clearly superior quality but, if I am honest, there seems to be little other discernible difference between the two versions. Both are excellent quality and feel equally robust enough to deal with anything a family holiday can throw at it.
In short, the Trunki is a 'MUST HAVE' for any family with young children planning a trip abroad. It made our travels far easier and the fact that they are now made in Britain is just the icing on the cake.
– James
Editor's Rating
Quality
Value for Money
Functionality
Design
Satisfaction
Total British Family Rating