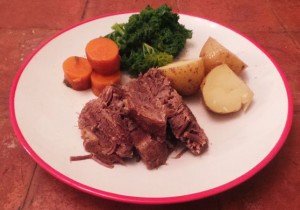 To be very fair this is less, something for the weekend, and more something to start at the weekend and finish the weekend after but there you go slow food is so completely worth it.
It is essentially very very simple and creates the most incredible beef, and what's more a phenomenal beef stock to bag up and freeze.
Stage 1 Ingredients
1.5kg piece of British beef brisket or foreflank
2.5l of water
250g demerara or light brown sugar (if you want totally British you can use Tate & Lyle granulated)
750g salt (don't go crazy with very expensive salt it won't give you anything extra, just try to avoid the caking agents)
1/2 tsp black peppercorns
1/2 tsp juniper berries (I bashed mine a bit to let out the flavour)
3 cloves (
2 bay leaves
fresh thyme
Put all the stage 1 ingredients except the beef into a large saucepan and stir over a low heat until all the salt and sugar have dissolved. Bring to the boil, allow to bubble for 1-2 minutes, then remove from the heat and allow to cool completely. Put your beef in a non metallic container, I used a large plastic cake storage box with a lid, this is pretty important to keep your beef submerged. Cover the meat completely with the cold brine and make sure the whole thing is submerged, I used a cocktail stick in the centre of the beef to push it down when the lid was on. Leave the box in a cool place for 4-5 days.
Stage 2 Ingredients
1 bouquet garni
1 carrot roughly chopped
1 onion roughly chopped
1 celery stick roughly chopped
Half a bulb of garlic
After your 4-5 days remove the beef from the brine, wash in cold water and then soak in fresh cold water for 24 hour. After its soak, place the beef with the rest of the stage 2 ingredients into a large pot, cover with fresh water and poach very gently on the top of the stove for 2-3 hours. Cook until the meat is completely tender and yielding when pierced with a skewer.
Serve just about however you like be it thick cut in a sandwich, with lentils or with just plain boiled potatoes. However you eat it you'll love and appreciate every second of your weeks work!
– Emily