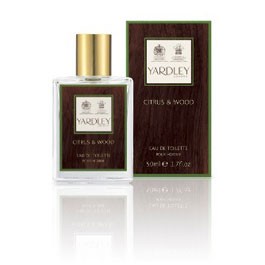 Today my Fathers day gift was a bottle of Yardley London's Citrus & Wood Eau de Toilette.
Mention Yardley to anyone and the first thing they will likely think of is how their Gran smelt of Lily of the Valley in the 1980's. It is fair to say that the iconic British brand suffers from its old fogey reputation.
While perhaps no longer a trend setter, I neither sport a blue rinse nor am I close to drawing my pension. However, when Yardley London were kind enough to give me a bottle of their Citrus & Wood Eau de Toilette a year ago and it quickly became my favourite scent.  It has taken nearly 12 months to get through the one kindly given to me. So, I was delighted when a replacement was handed to me by Lucan this morning in recongnition of my years worth of fatherly duties.
I find many of the popular men's 'fashion' fragrances rather sickly and much prefer woody/spicy smells of the sort that seem to be a little rare in your local Boots store. This particular Yardley fragrance  is perfect for me – a mix of oak and sandalwood with a hint of zesty lime. It also has a couple of added bonuses  in that it is made in the UK and is only £10 for 50ml.
So, I am now on my second bottle and am sure that it will not be my last.
Editor's Rating
Quality
Value for Money
Functionality
Design
Satisfaction
Total British Family Rating
– James