So we have recently invested in a British made car and I suspect you will be surprised by our choice. If I say that it is a much loved British classic, an undeniable an icon of UK motoring and regularly featured in TV and film your thoughts might immediately got to a Aston Martin DB8, a Jaguar E-Type or perhaps even a Lotus Elise.  However, our sights were set somewhat lower.
Yes – I am now the very proud owner of a MII Reliant Robin.
At this point, dear reader, you might be thinking that I have lost my mind. This is indeed a view shared by Mrs B (who has adamantly said that she will not be seen dead in it) but there is method to the apparent madness.
First things first, the Robin is not our main family car. The 'plastic pig' is admittedly not an ideal family run-around and it's zero N-cap rating suggest that transporting a new baby might not be a wise move. But, it really is a lot of fun… and that's the point.
I have wanted one for years and recall a time when you could pick them up in good nick for around £300. Those days are long gone. Good/rare examples are now changing hands for as much as £8,000. Years of trike conversions and banger racing has meant that they are very much an appreciating classic.
You might be glad to know that my example is neither in the extremely rare nor very good condition category and set me back a little over £1000. So, as a folly is it not a massive investment.
So, why did I buy it? Well, being a biker with only a motorcycle licence it is the only car I can drive without going for a full driving licence- which, even to me, seems like a crazy loophole. I also wanted something that myself and Lucan can go on fun outing in and on this score the Robin is already paying dividends.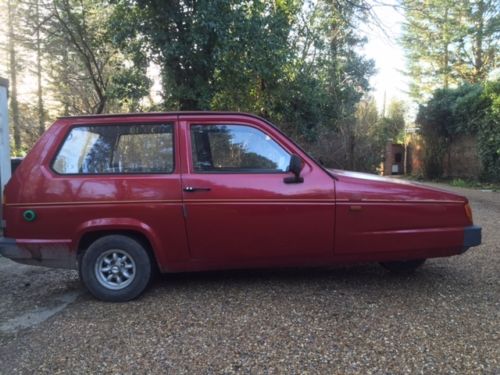 Anyway, I thought it might be fun to do a quick review of the much maligned Robin:
My particular Mk2 Reliant Robin as built in Tamworth in 1994 featuring the second of 3 body shapes to over it's over 30 year production run. It is the SLX model which was the higher spec-ed of the range when it was released. It has a 850cc engine, 4 seats and 3 doors under a completely fibreglass body shell.
The ride:
The engine is actually pretty pokey. Weighing less than 500kg it pulls away from the lights faster than most modern cars. The 4 speed gearbox is clean and precise but you need to be careful to change down on hills or you will eventually start rolling backwards. On one of the rare motorway jaunts in the car all I can say is that it got to 70MPH and (everso slightly) beyond with not struggle at all. It also felt very planted.
The main question I have been asked about owning a Robin is "will it flip over". The short answer is – no. The slightly longer answer is – if there are a unique set of circumstances where you are doing 50MPH around a hairpin bend on a 10% camber then possibly. Otherwise, it feels really stable.
The trim and accessories:
The SLX comes with cassette radio, heated rear windscreen and internal heater (powered by the heat of the engine). I might change the radio but I must say that it does the basics pretty well. The interior trim and overall quality of the plastics inside are pretty appalling. The wafer thin dash and door cards and dash are all let the experience down.
The seats are tiny. In fact the whole drivers space is tiny. It requires you to put the key in the ignition and  wind the window down before you get in as both of these tasks are difficult one in the drivers seat. Also, the pedals are really close together, which means that if you wear big boots you can be stepping on 2 peddles at the same time. It really is quite tight in there. Saying that though, the boot space (especially when the 2 back seats are down) is massive. I could get 2 full size bikes in there if pushed and still have space for the picnic basket.
Fun factor:
There is something about this car that perhaps no other car has, and that is a specific place in the British psyche. The Robin makes people smile, wave, run along side.
The downside:
People, after a few drinks, find it amusing to lift it up and put it on it's roof. This has already happened to my Robin under my brief ownership.
So, where next for the trusty Reliant? Well, me and a friend of mine are planning to drive the trusty Robin the length of Britain in August on a pilgrimage to the distilleries of Islay. The plan will be to video our adventures along the way and the results will be presented on this very site shortly after.
James